Let me just put this out in the open before I start: I'm not that big a Dashboard Confessional fan. I know some of their songs, not all (but the ones I know, I love). I can't name all the band members. I can't even name all their albums in chronological order. But when I heard Chris Carrabba was going to be doing a solo acoustic gig here, I knew I had to go, whether I had anyone to go with me or not. After all, they're known for their intimate gigs, aren't they?
Anyway. It was amazing; Chris was amazing. He's just as good -- if not
better
! -- live than on recordings. His voice soared and dipped perfectly, and I was amazed that it lasted throughout the hour plus he was on stage, with all the screaming he was doing. And it was
good
screaming,
tuneful
screaming!
Pretty lights at KL Live. Oh, and Chris.
We did a lot of screaming too, actually. We sang along as well. In fact, the more popular songs were basically huge singalong sessions; Chris looked a bit awestruck each time it happened, which made me smile. This happened with quite a few songs:
Don't Wait
,
Stolen
,
Hands Down
,
Vindicated
,
Belle of the Boulevard
and
Screaming Infidelities
.
Belle of the Boulevard
was amaaazing live, and I loved every second of it. Also, I will probably never listen to
Hands Down
the same way ever again. (I love how he still introduces it as 'a song about the best day of my life'.)
Two gripes I have are the too-fast tempo of
Dusk and Summer
and the absence of
Water and Bridges
in the setlist. I love, love, love
Dusk and Summer
-- it's one of my all-time favourite songs. Chris started that right after a fast song, so the tempo was just really off.
Water and Bridges
is another one of their songs that I particularly like, so I was a little put out that it wasn't played, especially since I know there's an acoustic version of that.
But, you know, there were many other redeeming factors. He did a cover of Cory Branan's
Tall Green Grass
, which I really liked. Oh, and
The Places You Have Come to Fear the Most
! I love that one, so much. Also, I was impressed with KL Live, having never attended an indoor show before. There were (clean!) toilets in the hall, and the hall was air-conditioned. No shoving, sweaty, moshing people! A far cry from, say, MCR's show a little over four years ago. Intimate gigs really are the best.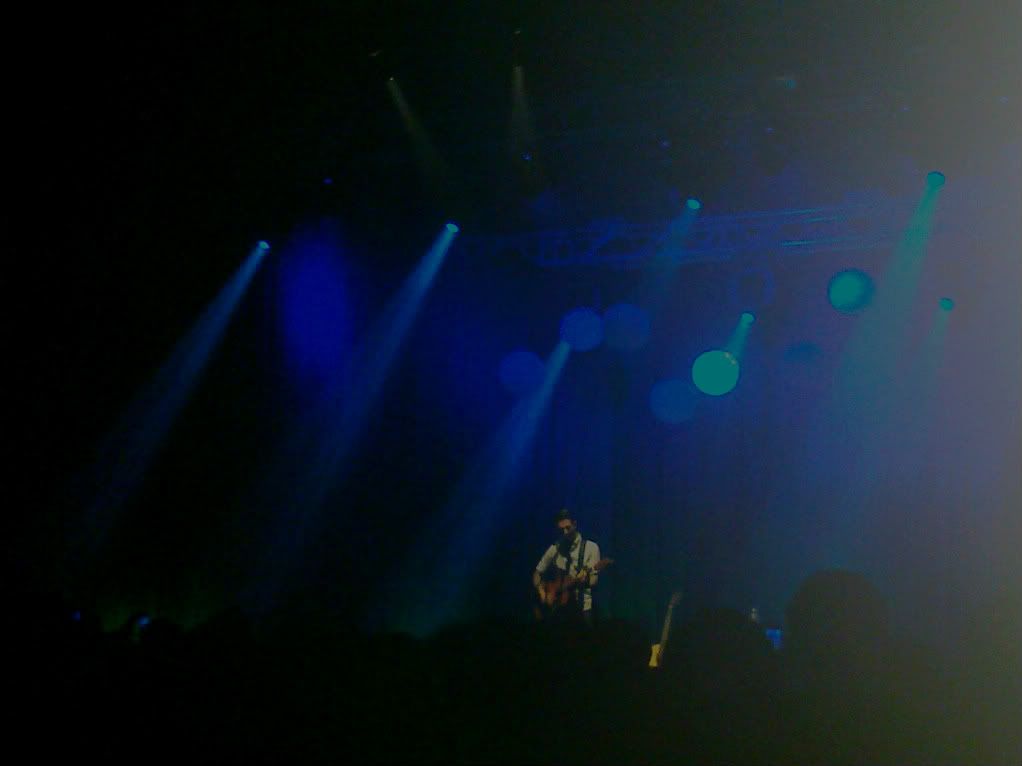 Yeah, I'm not sure why I bothered taking photos either.
It amazes me that all there was was him on stage with two guitars, and it was enough. The mood changed with each song, energy levels were kept relatively high all throughout, and we were most certainly entertained. It was just raw and beautifully simple (organic?), each and every song. It just makes me wonder if music nowadays is overproduced, with too many bells and whistles detracting from any actual meaning the song may have. I mean, Chris proved tonight that all you need to make good music is one man and a guitar.
So Dashboard/Chris was amazing. I'm not gonna be listening to anything else for the next few days. College tomorrow. Boo. Goodnight.