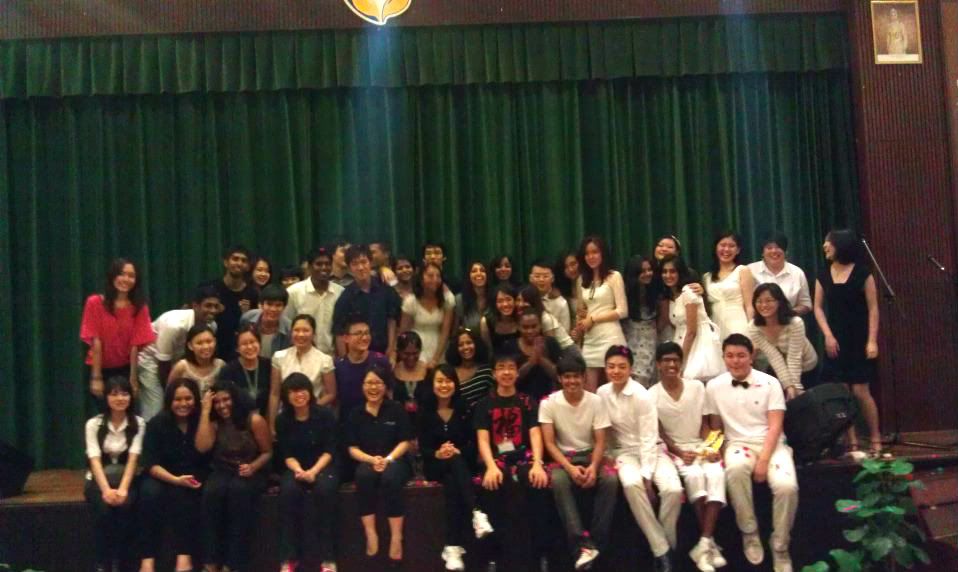 The lovely cast and crew.
Photo credit: Daniel
There is so much to be said that I don't even know where to start. My thoughts are so all over the place, it's hard to pin them down in writing. I'll start at the beginning, I suppose.
The making of this musical was one heck of a ride. Every production begins with an idea and then a script, and let me tell you, we had
three
of those. The very first finished script we had, we scrapped. It was completely different from
Ramu and Chu Lian
, and based off an idea that was really hard to work with. Scrapping it was a big move, though, because poor Yaggy wrote the whole thing himself, and it meant we'd be starting from scratch again. But we did what we had to do, and came up with a new plot and script in the end.
When we presented it to the cast (who had just gotten through our auditions), it was horribly rough. The thing had been cobbled together in mere days, so it wasn't in very good shape just yet. I remember sitting in the tea room with everyone, resignedly taking note of their concrit (constructive criticism), fully aware that they were all right. I particularly remember Kenan speaking very, very slowly and quietly, and all of us wanting to strangle him. Anyway, it took
quite
a few edits, the script was finished soon after...not including the last-minute additions.
Just one of our last-minute things -- Hot Honey Rag by Benji and Denise.
Photo credit: Mr. Reuben
Then came practice. Oh, practice. The same scenes over and over again. The same moving of props. The same lines and punchlines and people on the sidelines. Practices should've been boring, but they weren't -- once we'd gotten the sound and lights people on board, practices were actually pretty fun. If ever things started to get a little too stressful or frustrating, Kevin or the ever-cheerful Amelia would help lighten the mood while Jasmine and Yen Ping would do their thing trying to calm everyone down. Y'know, Saturday practices were usually pretty awesome, and, in my opinion, well worth waking up early for. I was never there for singing or dancing practices, so I can't say anything about those.
Leading up to the musical, practices increased in length and frequency, and everyone was getting visibly tired. Ms. Lucia bought honey for the singers; in addition to drinking honey water, they'd been asked/warned not to eat spicy or fried food. (I'd forgotten, and wondered why Reuben breathed "
Sambal
!" as I walked past him eating a
sambal ikan bilis
bun one night practice!) The worst thing was, the cast and crew seemed to be falling sick one by one during the final week. First, it was Mia, then Shean Yen, then me, then Kelvin. We were horrified at the prospect of one of our singers or actors falling sick (there were no replacements nor understudies due to shortage of people), and kept telling everyone to take their vitamins.
Unfortunately, that wasn't our only problem in the week leading up to the thing. Murphy's Law was in full effect, and probably every single technical problem that could've occurred did. I'm not even kidding. Mics, lights, narrator, positionings, miscommunication with the college and AV rental company... All that gathered together at once and took a giant dump on our heads. We were asking friends who were coming if they could find it in themselves to clap even if the musical really sucked, okay. But, praise God, even with the last minute decisions and add-ons to the script, everything somehow worked out in the end.
The audience on the first night was fantastic -- they laughed and aww-ed at just the right moments!
Photo credit: Mr. Reuben
We had a prayer circle before the show on both nights. I wasn't there for it on the second night, having gone with Kelvin and Daniel to buy dinner for ourselves and whoever else had placed their orders, but I was for the first night. Honestly, it was just what we needed. There's something about prayer that's so wonderfully comforting, and a shot of that before taking to the stage was perfect. Thinking back on all the problems we had, I think nothing but divine intervention could have solved (or at least settled) them all -- a little prayer really does goes a long way!
The first night was fantastic. I mean, really. The audience was great. When we had night rehearsals, there
was
no audience, so every joke or cute part was met with silence. This time, though, there were actually
people
, and they were actually
laughing
! It was a bit weird to be so afraid of and dependent on what people thought of us, since I try to live my life not caring, but that's how it works here, I guess. I'm going to be honest with you: the first time I heard the audience laughing and "Aww"-ing during the cute parts in the montage, I was so happy I could've cried. All throughout, Yaggy, Dhama, and I (the scriptwriters) were bragging to each other, "See? You said that part wouldn't work, but they laughed!" and things like that. Good times.
And my Samad friends, my gosh, my Samad friends. Sze Li, Timothy, Kent, Iis, Edmund, and Joshua came on the first night, and those jokers pooled money to buy a bouquet of flowers. This was presented to me by Edmund when I came out for my stage hands curtain call. It now stands in a vase of water on the dining table here at home. Thankyou so much, guys! It really did mean a lot to me, and I cannot thank you enough!
In the kitchen after I'd transferred them to the vase.
The second night wasn't quite as awesome as the first, but my dad and grandad said they enjoyed it anyway. To be honest, a number of things went wrong with this show, but they weren't anything major, so I'm okay with it ('okay' meaning more 'not wanting to stab someone' than 'pleased'). Part of me wishes we could've just done one show so that we'd have finished on a massive high, but it seems silly to have worked so hard for months for just one night when it could've been more.
So I have a few (read as: many) people in mind who were amazing and are definitely worth a mention. Sorry about this whole Grammys moment, guys. Bear with me?
Melodramatic? Us?
The reason for the gap was because the wood there gave whenever anyone put any weight on it.
Photo credit: Kash
Benji.
Benji
. Honestly, this whole musical would've been
nothing
without him. He was the driving force behind it, yelling at everyone to be serious, unrelentingly holding practices, not even caring that people were beginning to hate him at one point. All that nagging and pressurising was necessary, and -- even better -- fruitful, so I have the utmost respect for him. That boy is a born performer (he doesn't take any lessons at all, okay), and I really hope his parents let him realise his dreams!
Yaggy. Do you know how stressed this poor boy was? The number of things he was juggling at any one point was, to me, overwhelming. Leo, PAC (Performing Arts Club -- that's us), Student Council, Ed Board, twelve hours of Math a week plus Chem and Physics... That's not including the fact that he and his family had been moving house when the musical was only just coming together. Throw in the fact that he watches practically every TV show there is, and I am in eternal awe of his time management skillz. In this musical alone, he co-wrote the script, acted, danced, and helped out backstage. Yaggy is so awesome I can't even understand it. I can't.
Ying Ying. Our very own Emperoah of China who brought her entire empire on the second night (this included her mother, father, sister, brother, cousin, maid, and secondary school friends). Ying was the Head of Drama, and acted, 'sang', and danced as well. She was probably at twice the number of practices I was at, since I never attended the dance ones. At times, I felt she was doing more than I, the co-director, was. When she gets her game mode on, she's super duper responsible and it feels like she can get anything done. Also, that Super Bass thing she did was
very
last minute, as we needed to buy time for Ram and Amelia's costume change; I think it's safe to say she rose to the occasion magnificently. All hail the emperoah!
Our Head of Drama/drama queen taking her bow.
Photo credit: Mr. Reuben
(So according to
wordcounttool.com
, I've written 1359 words. I'm getting fed up and have homework to catch up on, so I'm going to make the rest of this fairly quick.)
Dhama, for infusing parts of the script with her witty humour and sarcasm. I probably laughed the hardest reading the parts she wrote when I was editing everything. "Who am I supposed to dance with? A pole? Don't even answer that!" Trishi, for being the most amazing dancer and actress. Watching her on stage was an absolute joy, and I was so proud of her it was incredible. Shean Yen, for patiently dealing with people who were hard to work with, and always offering to help whenever anyone's workload seemed to be too heavy for them to shoulder.
Kash, for handling the marketing stuff and somehow managing to find a reason to be there for our second show. Yen Ping and Kevin, for the great song ideas. Yen Ping again for the lovely piano playing. Jasmine, Kenan, Amelia, Ram, Arvin, Ashlyn, and Mia, for playing their roles to a T. Kelvin, for being such a trooper and coming for both nights even though he was sick. Michael, for agreeing to go onstage in drag. Joel, for coming back and helping us with ushering and backstage even though he'd quit PAC for Leo. Martin, for coming in last minute to help us with ushering and the mics. Min Ji, for being the bestest Props Manager ever, never losing an item. Our narrators.
Mics and sound people represent!
Photo credit: Mr. Reuben
Fellow stage hands, for making the best of the mad scrambles in the darkness backstage and making smooth transitions from scene to scene. Everyone who was involved in ushering. The dancers, for training so hard and looking incredible doing their thang on stage. The singers, who practised so much their voices were in danger of going, but sounded amazing on both nights. Lydia Tong, for helping our singers. Megan Chng, for helping us with make up.
Ms. Lucia, for the honey and food and the "
Chee cheong fun
!" suggestion. Ms. Melody, who was unfortunate enough to join our club as one of our teacher advisers when things were in full swing. Mr. Adrian, Mr. Michael, and Mr. Roland who patiently came to or waited at college just so we could collect or return the keys to the hall/Room 2.6. Mr. Adrian again for dealing with a lot of our crap. Mr. Maniam and Mr. Henrikus (I have no idea how to spell his name, I'm sorry) for constantly helping us out in technical matters. Mr. Reuben, for the awesome confetti cannons on the second night. The college, for allowing us to invite outsiders, and paying for our backdrop.
Everyone who came to watch and support us -- friends, family members, lecturers, and ex-lecturers. My parents, for having to deal with a sick, tired, headachey me all the time. My father again for patiently waiting to pick me up from night practices. My Samad friends, for the flowers and prayers. Jacie, for the good luck SMSes on both nights. I feel like I'm missing some people, but I've written more than 1.8k words so far, and I really want to wrap this up.
Woo, confetti!
Photo credit: Ying Hui
Making this musical has been a ride like no other, and all in all, I'm glad we did it. There were times where we were questioning ourselves and many of our decisions, but it all worked out in the end, thank God. Through this musical, I've met and gotten to know some wonderful people, and had experiences I'm not liable to forget. We had a great run; we were very blessed, and I am thankful.
So, hey, next PAC BOD... Another musical next year? (;