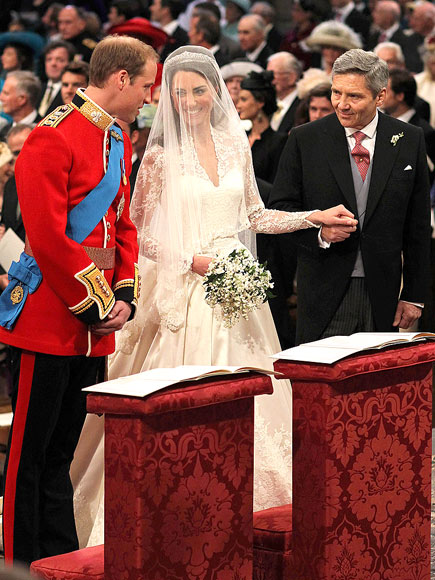 I don't get it.
People sat in front of their TVs and/or computers (the event was being streamed live on YouTube) waiting for hours to watch the wedding. There were bursts of excitement everytime some distinguished or influential guest showed up, and even when a glimpse of the wedding dress could be seen when the bride waved through a car window. I was on Twitter at the time, and my timeline consisted of these topics and these topics only:
Kate Middleton's dress
Kate Middleton's makeup
Prince William's bald spot
How hot Prince Harry was
Hats
Wedding guests
Princess Beatrice and her show-stopper of a...head piece.
I really don't get what the big deal was about...besides so much of the taxpayers' money being blown like that. Maybe these sentiments will change when I get older or something, but it was a wedding of two people almost all of us don't personally know. I don't know about other weddings, but Chinese weddings can sometimes be drag; guests attend out of obligation and/or for the food. What about all those people crowded outside Westminster Abbey? They had neither!
Also, I just don't get all the scrutiny. Most of the people I know who watched (granted, they were teenage girls) were pretty much holding their collective breath to see the soon-to-be Duchess' wedding dress and makeup. Poor Kate Middleton -- imagine all that pressure, the eyes of the whole world on you, just waiting to see you emerge from the car. Thank God everyone loved her dress; I actually felt a bit relieved for her.
Everyone -- everyone -- was going on and on about Prince William's bald spot. Look: it's his head. If he feels comfortable enough to take off his hat and display his lack of hair to the world, good on him. If it really, for whatever reason, matters to you so much or somehow even offends you, look away. The amount of hair on his head matters nothing to you. As long as Kate Middleton is okay with it, it's all good.
I have to say, though, I was surprised to see the pictures of Prince William in the papers. In my head, he will always look this good:
I was pretty confused when people on Twitter said Prince Harry was looking good at the wedding, since I always remembered Prince William as the better-looking prince. And then I saw the photos...
(Both are from Tumblr, click for links.)
...and I asked myself when that happened.
Moving on, what is with all the
royal wedding merchandise
? It's... It's just crass! There're key chains and tea bags and food and mugs and dishes and sick bags and
toilet paper
, and it's just insane! Why would people buy those things? They're horrible moneymaking schemes!
So that's my take on the royal wedding that I did not watch. The hype was near ridiculous, but congratulations to the new Duke and Duchess of Cambridge a) for getting through their wedding day alive and b) on their marriage. May it last longer than Prince Charles' and Princess Diana's did.


P.S. Gotta love Nigahiga!