From the Facebook page:
After the successful completion of our 10th year SJC Youth Football League this June, the Subang Jaya Community Sports Club (SJCSC), is pleased to announce that the Subang Scrabble Challenge 2010 would be held on 7th to 8th August 2010, in association with Malaysian Scrabble Association.
Thank you for Tournament Host : Taylor's University College
I walked into the (COLD) tournament room in Wisma Subang today jittery and completely unprepared. There were two things I was beginning to regret:
1. Not training
2. Forgetting to bring a jacket/hoodie
Trying not to imagine myself as a defeated human icicle at the end of the day, I shook my head. Wasn't this my last U-18 tourney? Hadn't I said I would give it my best shot? And wasn't Taylor's pretty well-known for its below-freezing temperatures?
Funny how things turn out, though; neither turned out to be a problem.
The tourney was split into three divisions: Beginners, Junior U-18, and Open. Here, Open meant Masters, since the requirement to be eligible for said division was a rating of 1300 or above. Open was an odd mix of people for sure. There were people from all walks of life (well, from teenagers to those with white hair, anyway) sitting in the front of the room, solemnly playing against each other. Funny how Scrabble can bring the most unlikely group of people together.
The people in the division I was in, Junior U-18, weren't quite so diverse, however. I recognised some of them, which is always a nice thing. (Remembering that I'd beat some of them was even nicer, hee hee.) It was to my utmost relief that I found out that the national U-18 Scrabblers had flocked to the Open division, as they would've undoubtedly bowled over everyone else in Junior U-18. I breathed easy. Good, good, my division would be free of the Scrabblers I have nightmares about...
Except for Vinnith.
Open was two days -- yesterday and today. Junior U-18 was only one -- today. Vinnith, for whatever reason, could not make it on Saturday and therefore had to join the latter division. Boy, was that a damper.
(Photo from the MYSC from Mr. Raj's
Facebook
.)
That's Martin on the left and Vinnith on the right. Martin arrived later in the day, right before the last match.
Of course, as always, Vinnith and I played against each other. Twice. I'm telling you, every single tourney, we meet each other at least once. (Lately, it's more like twice, but I'm trying not to exaggerate here.) To prove my point, we played against each other in
this
,
this
, and
this
tourney. Yeah.
However, our second match (which was also, by the way, the last match of the day), Vinnith was super nice to me. I don't know if it was because it was the last match, or I looked semi-miserable, or Martin was glowering at him whenever he could, but he let my unintended phony, KIA, through and I think went a little lighter on me. Okay, maybe a lot lighter -- the spread for that match was 46, as opposed to the match before's 273. It must be said, though, that I managed to get in my second bingo against Vinnith ever: TOWARDS, hooked on to MYC to make MYCS. Yay me.
Oh, and guess what? I played against William Kang's brother, Wilson Kang! I had no idea they were brothers until I heard someone say his full name. They aren't the least bit alike at all! Wilson's eleven and big for his age, a cute roly-poly fella. He's easy to talk to and so cheerful all the time; even when he loses, it's in an aw-shucks-oh-well kind of way. Heeerrreee's Wilson!
(Photo from the MSA Nationals from Mr. Raj's
Facebook
.)
Yes, the one in red. The heads above his from left to right are Ramaraj, Cedric, and Arvinran.
I played against Priya again too. Every time we play, it's a very narrow game. I won this one by just 47 points, okay. Priya, you're gonna beat me the next match!
Overall, it was a good day. I got four wins out of six, the only two losses being to Vinnith -- just like this year's state-levels. Also, I got these:
Third place, yo!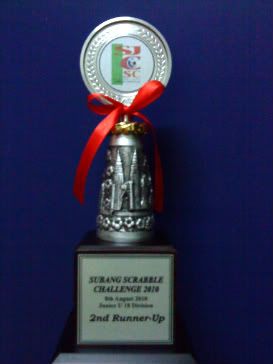 So yeah. I am quite pleased. And I didn't practise at all! Funny how things turn out -- I trained really hard for this year's
nationals
, only to crash and burn quite badly. Baaad memories.
Anyway, this was a good end to my U-18 Scrabble days. Even with all the blood, sweat, and tears they cost me, well...
I'll miss them. (':