Just a quick update today -- I've got a ton of homework to do and it isn't getting any lighter.
We BRATs are in the R.AGE section of today's StarTwo! Heck, Sean and Kelvin are on the front cover of the StarTwo, looking like pros, hee. (Sing[h] is King!) Sean Sing himself wrote an article on BRATs, and there are two short articles from Teams Yam and Sing(h) is King. In the sidebar on the right hand side of the page, two titles are mine: Be Our Guest and Saints Keep Marching On. Only the latter article's on the R.AGE site, though.
Read the articles
here
! Edited, of course. Han Ming and
Himmat
are writing like real journalists already! Their articles are A Friend In Need and Not Your Average Joe, respectively.
Videos aren't up yet because we well and truly messed up some parts of our videos, and some serious editing is probably being done as I type. Got an sms from Sean yesterday asking if it was possible to record my voice for a voiceover to touch up our group's video. (For those of you still not in the know, Sean Sing, leader of Team Sing[h] is King, is actually an intern at The Star.)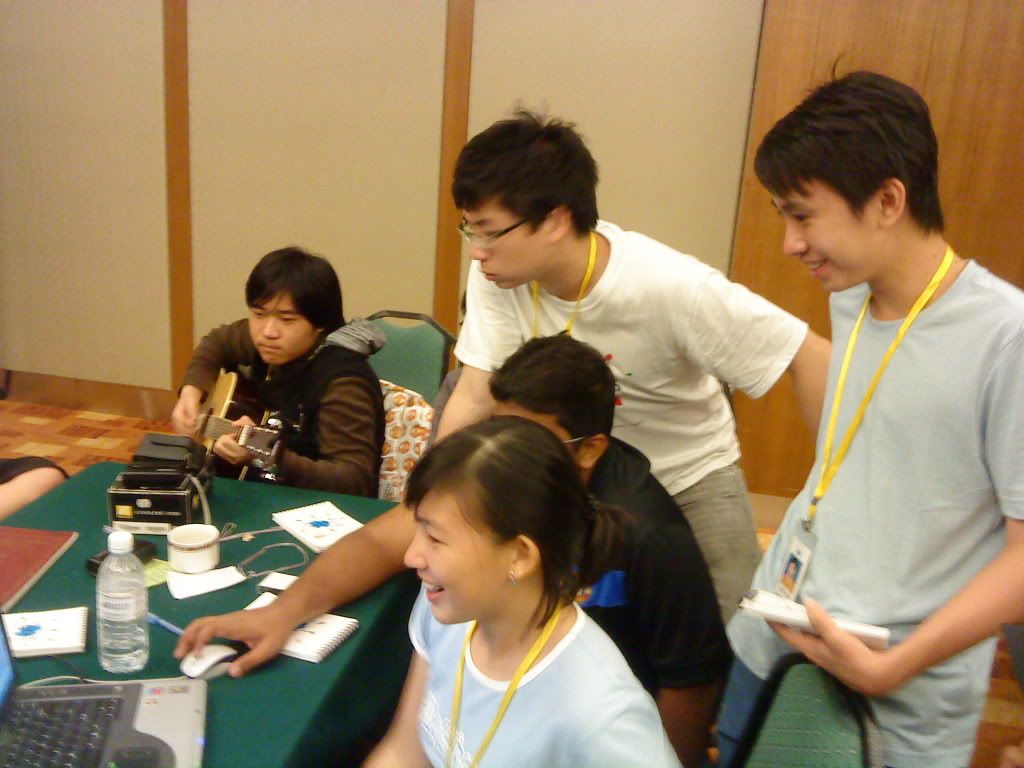 Clockwise from top: Sean, Ken, and Pau Ling Darling working hard, with Keesh in the middle. Providing free entertainment is Ben.
While I don't want my awful stand-upper to be open to the public, I do want to see what they manage to do with our video. Hmm.
Anyway, that's it. Oh, and if anyone out there's gonna be at Pillow Fight 2010 (Psst! It's at 1U!) this Saturday -- held in conjunction with World Pillow Fight Day, something I still can't seem to get my head around -- Niki Cheong has five T-shirts to give away on his blog
here
. It's a sort of pillow-themed camwhore contest, so snap-happy people, go!
These 'I ♥ KL' T-shirts are being sold by RandomAlphabets, the organiser of flash-mob events such as Pillow Fight 2010, to help fund their projects. If I'm not mistaken, Delicious (the restaurant) has pledged to donate RM5 to either SPCA or another non-profit organisation (depending on which colour '♥' T-shirt you buy) per T-shirt sold.
Even Jason Mraz sported one when he was here last year!

Jeez, this post is a lot longer than intended. Anyway, bottom line: READ OUR STUFF and possibly pick up a free T-shirt. Now off I go.
P.S. I've always wanted to be part of a flash-mob. Not in a public pillow fight, though.